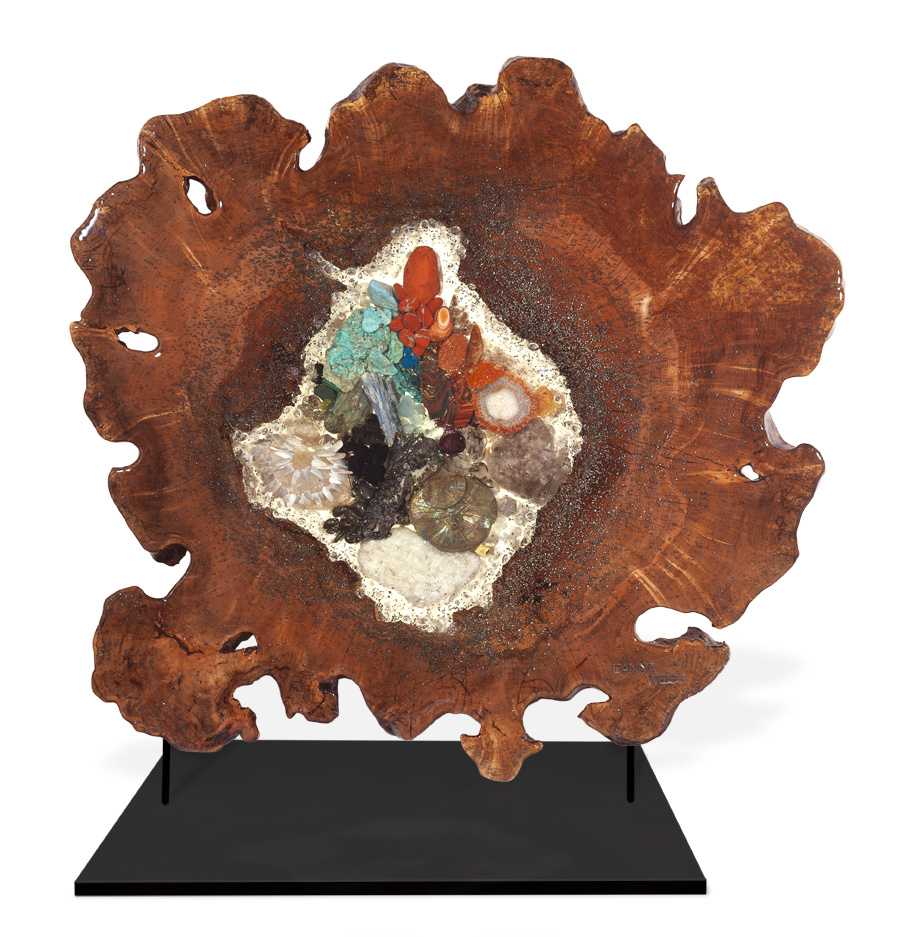 Inspiration
Weiss had a passion for the beauty of crystals and gemstones early on and has been working with them for over thirty years. She was originally inspired by the New Age concepts behind crystals and gemstones. An evolution in a series of experiences, deepened her relationship with God and led her beyond that viewpoint into a new arena. She is continually encouraged by her relationship with our Creator and enamored by the beauty, textures, shapes and colors of the world in which we live.
Evolution
Weiss began in the medium of functional work in 2013. Her first personal piece became a coffee table that captivated clients and friends. They would inquire about a piece to be created for themselves or often insist on buying her coffee table. Weiss began to create works for others and in 2014 partnered with 1stDibs to bring her pieces to people all over the world. Larry Ellison and Nikita Kahn purchased a work for their Marina Del Rey home and Prince Bandar Faisal Al Saud commissioned a work for his Riyadh palace. In 2015, Alia and Ron Tutor requested she create a standing work for their Aspen home, which inspired her transition into creating sculptural works. Despite Weiss's background and certifications, she shifted away from her New Age viewpoint, when she experienced connecting to God's will for her highest good as the purest and powerful approach. Her works are now sold with 1stdibs.com as well as the NYC gallery of Guy Regal and through Weiss's studio.
Commissions
Artworks in the form of sculptures, tables, desks, shelves, and consoles are all available in studio or by commission. Larger works like dining tables or installations are commision only. Every piece is an original work. Creative challenges are welcome and Weiss enjoys being of service to her clients and turning their visions into reality.
The Physical Work
Each work is created with a durable and non-hazardous solution. This procedure and solution solidify and encase the work. Elements range from woods and metals to crystals and gemstones. Wood and stones are sourced from all over the world to find the brightest material with excellent character, luster and often rareness.
Conscious Practice
Weiss regularly donates extra crystals and gemstones to charity. For every wood element chosen, she plants another tree in gratitude.
The Studio
Weiss is in residency at Mana Contemporary, one of the largest juried art communities of its kind. Founded by Moishe Mana, the entrepreneur behind Milk Studios, Mana is headquartered in a refurbished tobacco warehouse near Journal Square in Jersey City, with campuses in Chicago and at the Wynwood Walls in Miami. It's Jersey City network alone spans more than two million square feet of studio, exhibition, education and ancillary space. The incubator spaces attract Art Basel's most coveted talents, and serve as a sanatorium of the international art scene.
To schedule a viewing, contact Weiss's studio: +1 (877)756-6501
Weiss Studio
@ Mana Contemporary
Basement, Studio B36
888 Newark Avenue
Jersey City, New Jersey 07306